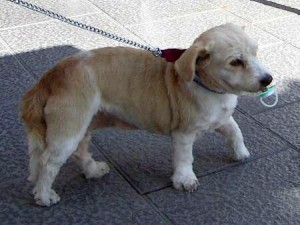 Yesterday I went into town with the girls from Casa de las Estrellas for yet another attempt to get their electic supply sorted out. We met in a sea-front bar, and while we drank our coffee, this puppy came past with his elderly owner. I didn't have my camera with me, but Helen did a very good job with her point and click.
We walked up the hill to the the agents for the electricity firm. And we finally had all the paperwork sorted! But the computer was down.
Oh well, they were coming back on Tuesday anyway, to start registering their car. We're none of us sure how long it takes to naturalise a car, and the UK insurance runs out in a month.
And on Tuesday night I'm going to be on stage at the theatre. It's the gala night to raise money for the island's cultural magazine, Ruido, and I'll be reading my own flash fiction in Spanish. It'll only take aabout 30 seconds. I can survive this. Honest.