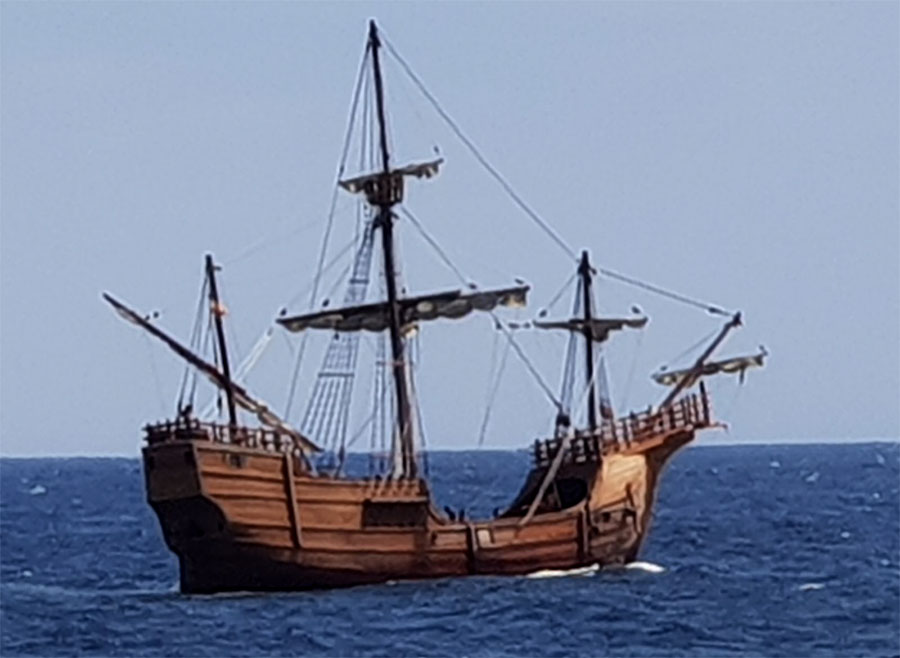 I was having coffee with a friend on the sea front when she exclaimed, "Oh my God, the naval museum's set sail!"
This was surprising because the naval museum is a concrete copy of Columbus's Santa Maria, firmly cemented into one end of the Plaza de la Alemeda in Santa Cruz. It's not going anywhere. In fact the local definition of patience is to have a ticket for when she sails.
But when I turned around, there was the Santa Maria sailing past.
Of course it's a different one. This one has a motor and it's on it's maiden voyage from the Spanish mainland and it will eventually be going on to Puerto Rico and then the mainland of the USA.
More important to me personally is it's cargo. It's bringing the bell of La Verdad back to La Palma after 119 years, thanks to the kindness of an American lawyer called Thomas Cox Tomorrow the bell will be formally given over to the museum.
I'm really looking forward to this. You see, Thomas originally bought the bell bcause he liked the name, La Verdad – the truth. He says that's what he was always looking for in his work as a lawyer. When he googled for more information on the ship there wasn't much available in English, just the Lloyd's insurance register and an entry in my blog. So he emailed me asking if I knew any more, and I put him in contact with the naval museum. I wasn't the only person involved in this by a long way, but I'm happy to have helped to do something nice for my adopted home. I'm really glad I wrote that blog post.