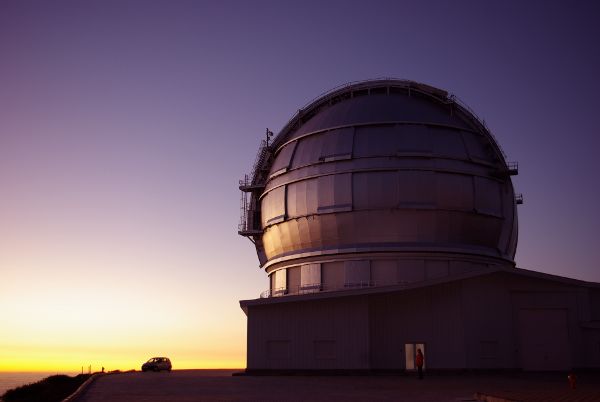 The IAC organises morning visits to the observatory for people over 6 years old several days a week, but you have to sign up in advance. You can book at https://www.adastralapalma.com/tours-en/tours-observatory/
to join a regular group, or email me if you don't want to share. I can do groups up to 25 people, but for groups of under 12 this is more expensive.  Book early!  Visits last 90 minutes, and take place between 09:30h and 13:00h. Only royalty get to visit at night.
You have to make your own way to the observatory, which usually means either a hire car or taxi. From Los Cancajos, allow about 90 minutes and a third of a tank of petrol. From the Princess Hotel, allow longer and half a tank of petrol. (You can probably get there and back on less, but it's no fun watching the petrol gauge with your guts twisted with worry.) Both access roads are twisty: if anybody in your group suffers from motion sickness, the Spanish over-the-counter medication is Biodramine, which works very well for me. (Take one or two half-an-hour before you leave.)
The observatory is at 2400 m (7,900 ft) and there is about 25% less oxygen than at sea-level. This is fine for most people until they try to climb stairs quickly, but you probably shouldn't come if you have anaemia or a serious lung or heart problem, and think carefully about bringing babies or the very old. If in doubt, talk to a doctor. Please consult http://www.iac.es/adjuntos/orm/recommendations-visitors.pdf And bring your own sun cream, water, and food (especially if you're diabetic).
If you want to enjoy La Palma's spectacular night skies, there are several firms which offer stargazing excursions or telescope rentals.
Here is the link to the IAC web page to book a visit.