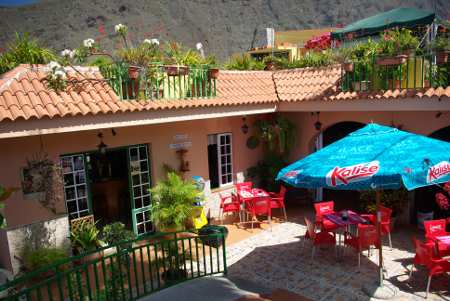 The patio at Balcon Taburiente restaurant
 
If you fancy an amazing view with your dinner, there are several restaurants on La Palma which can oblige. For example, there's Balcon Taburiente restaurant on the edge of Los Llanos, clinging to the edge of the Angustias ravine.
I haven't had more than a coffee there myself, but I've heard good things of the food. Certainly, they're very friendly, even if you turn up with a large dog. As a guide, the most expensive thing on the menu is garlic or onion steak for €13.80, and one of the cheapest main courses is a pork chop for €6.80.
From the centre of Los Llanos, take the road to the Caldera, signposted in brown. When you reach the edge of the cliff, turn left (turning right leads into the Caldera) and you'll find it on your right after maybe 100 yards. There's a not-very-obvious car park opposite.
They open from 11 am to 11 pm, except on Sundays, when they shut an hour earlier, and Tuesdays when they're shut all day.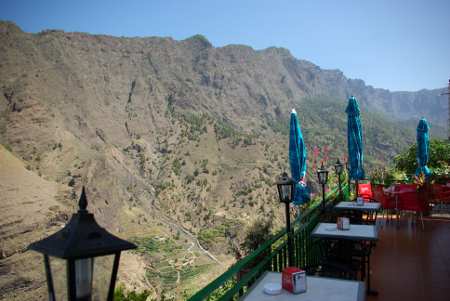 The balcony at the Balcon Taburiente restaurant