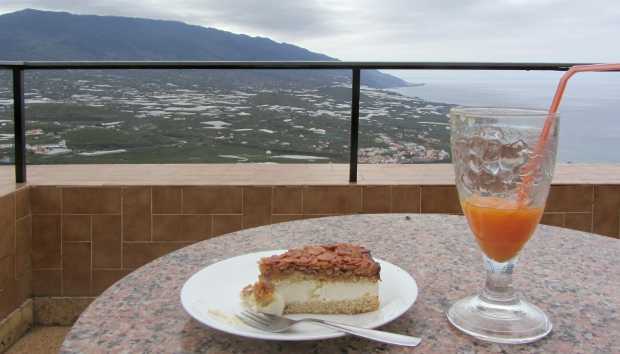 La Palma has lots of spectacular viewpoints, (mirador in Spanish). Most people's favourite is the at El Time, which is perched on the northern edge of the Angustias ravine in Tijarafe.
It's easy to find. Coming from Los Llanos, you drive down and down and down, round some pretty steep bends. After you cross the river, almost at sea-level, you drive up and up and up and up and up, until you're seventeen hundred feet up (535 m). There's a small car park on each side of the road.
You get a spectacular view, all the way from El Paso to the coast. Even better, there's a bar right on the edge. Weather permitting, you can admire the view while you sip your coffee and eat cake (rather good cake, too). There's a craft shop beside the bar. And if you're not thirsty, you can admire the view without going into either.
It's particularly spectacular at sunset. I really must get there with a camera at sunset.