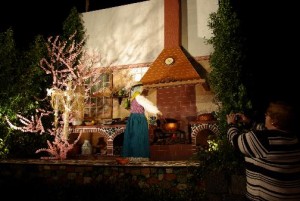 Today is Fiesta de la Cruz in Spain. La Palma was finally conquered on May 3rd, 1493, and the town of Santa Cruz de la Palma was officially founded the same day. Now I'm not sure it's in good taste to celebrate treachery and slaughter, but of course people are celebrating because they've always celebrated. And the celebration itself is beautiful – they decorate the roadside crosses in Santa Cruz, Breña Alta and Brena Baja.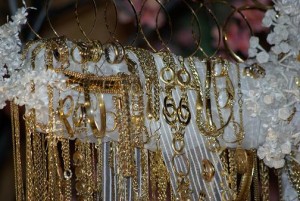 Actually people start decorating the crosses the evening before, and most of the locals go to see them late at night. That way the whole thing is much more atmospheric, and then you've got the public holiday to recover. MEanwhile, the group of people who've decorated each cross take it in turns to stand guard, partly because each cross is hung with jewelry. The people watching make a party of it, and send up some rockets (not very pretty, but lots of BANG!) every now and then, which I suppose helps them to stay awake.
Since most of the crosses are quite old, they tend to be on the old roads. One of the favourite itineries is to take the new, twisty road up to San Isidro, and then come down the steep old road past the crosses. The police set up one-way traffic flow for the event. The catch is that it's too far for me to walk (although groups of teenagers do) and it's very hard to drive and take photos, because there's nowhere to park at half the crosses.
So I persuaded my friends from Franceses to come. They haven't seen the fiesta before, and it meant one driver and two photographers. As we approached each cross, me and Helen jumped out while Theresa nobly drove through the queue (stop – start – stop – start). That gave us about five minutes at each cross before it was time to jump back in and drive to the next. Fortunately there were some places where Theresa could park and get a proper look.
I'll be putting up a page on my website with more photos of crosses soon. MEanwhile today is the public holiday, and those little rockets arte still banging away.