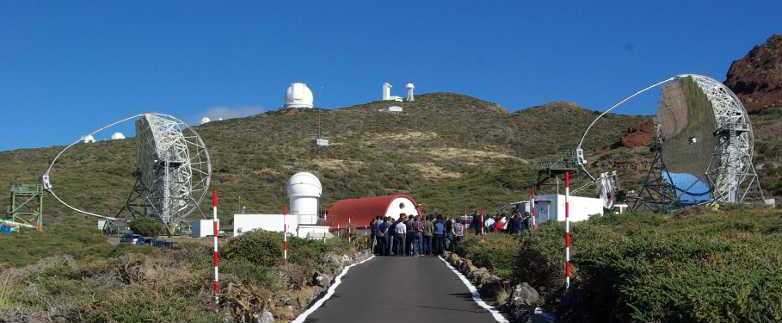 Friday 9th October was the first stone ceremony for the Large Size Telescope (LST). This will be the prototype for the largest units in the Cherenkov Telescope Array (CTA): 20 open basket, MAGIC-style telescopes, ranging from 23 m to 6 m in diameter.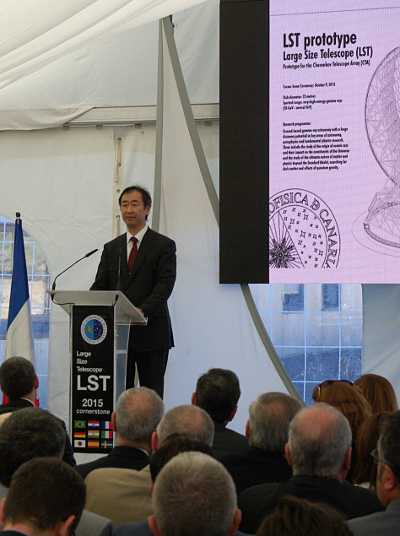 Lots of VIPs came. We had the Japanese ambasador and lots of politicians: the Secretary of State for Research, Development and Innovation, the President of the Canary Islands, the president of La Palma, and the mayor of Garafía. We also had the heads of most or all of the 20 institutes which will collaborate on the CTA project, including Takaaki Kajita, director of the Institute for Cosmic Ray Research in Tokyo. This was very nice timing, because it's less than a week since the Swedish Academy of Sciences announced that he will share the Nobel Prize for Physics this year (for the discovery of neutrino oscillations, which prove that they have mass).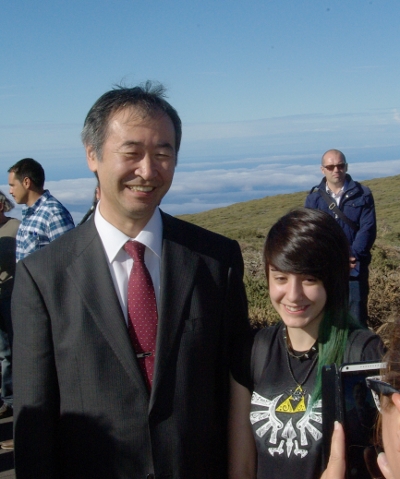 Takaaki Kajita seems to be a very nice person indeed. He posed for a photo with a quantum physics student who said she'd come to La Palma today just to try to meet him.
Apart from the 5 million euros per year which it will bring into the island's economy, what's so great about the LST? In the words of Takaaki Kajita, "The LST has the lowest energy threshold, therefore you have the access to various as yet unknown astrophysical objects."
[For non-geeks, the larger mirror means that you can spot lower energy gamma rays than, say, the MAGIC telescope.] The LST should be opening in spring 2017, and I hope to have the 3rd edition of my guide book to the observatory, "A Breathtaking Window on the Universe" ready in time for the inauguration.