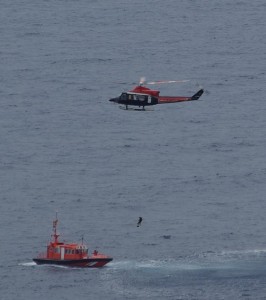 My friends in Franceses needed some help translating at the Town Hall, so today we went. On the way there we saw this practice rescue. At least I assume it was a practice because that's the coastguard cutter.
I left Julio with Helen while Theresa drove me to the Town Hall. There we established that a) the official permission for them to build steps to the house entrance isn't ready yet, b) the woman we needed to see about planning permission for thir new bathroom was out for the day and c) there were no tech jobs going at the Town Hall.
Oh great.
Then I phoned the previous owner of their house and I finally got though to him – it turned out that he'd lost his mobile and my number with it. And he planned to come next day and fetch the stuff he'd left in their cellar. So that was something positive to report.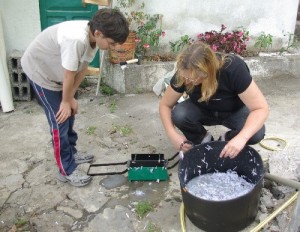 When we got back to Franceses we had a go making paper logs.
Helen and Theresa's stuff has arrived from the UK, and much of it was packed in shredded paper. So they'd soaked the paper in water for a couple of days and were now making it into paper logs for the fireplace they haven't got yet. We had a go. You fill a mould with strips of soaked paper, put a mesh lid on, and squish the water out. After that you remove it carefully and set it to dry.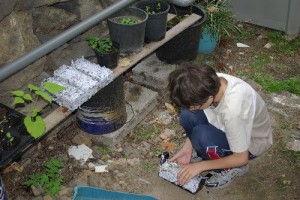 We had a lovely lunch cooked on their newly-unpacked gas BBQ and watched some DVDs before we came home.