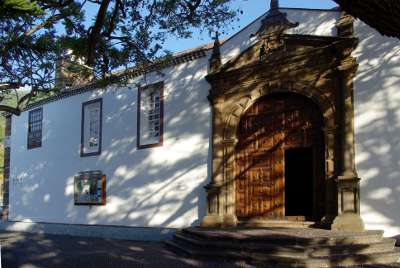 Las Nieves is a pretty hamlet, in the municipality of Santa Cruz, but about 2 km outside it as the crow flies. If you're fairly fit, there's a pretty (but rough and steep) footpath between the two.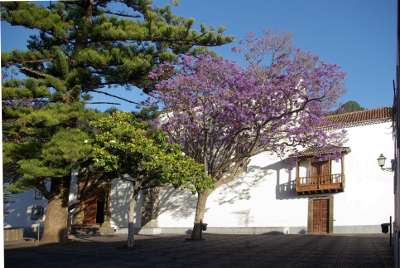 More importantly, Las Nieves has the most gorgeous church on the island. It's also one of the oldest, dating from at least 1423 (they had missionaries here before the conquest in 1493). The current building is mostly fromteh 16th century. It's a very popular place to get married.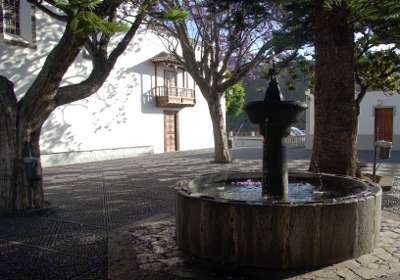 Our Lady of the Snows (the Virgin Mary) is the patron saint of the island, and statue of the her is painted terracotta, from the 15th century. The throne she stands on is marble covered with silver. (It's not too clear in the photo, but it's the thing behind the altar with all the flowers on it.)
Every five years the island has a massive fiesta where the statue of the Virgin comes down to Santa Cruz for five weeks. First they bring down the throne, which separates into 12 pieces (which are still darned heavy). That isn't so much a religious procession as a party, five miles long. Some people are staggering by the time they reach Santa Cruz. Then, a week later, they bring down the statue of the Virgin, which is a much more solemn ocassion.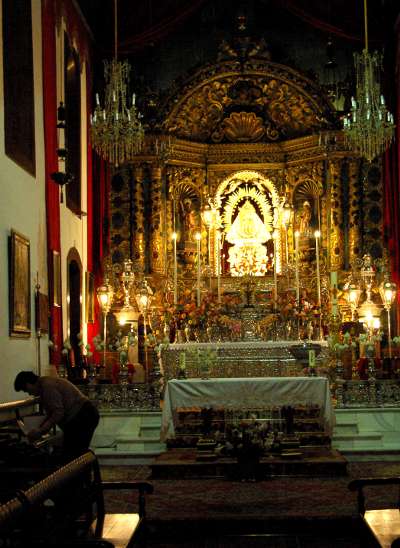 The Calvary statues are from the middle of the 16th century, and really beautiful.
There are also several paintings in the church, given as thanks for miraculous rescues from storms at sea. Cynic that I am, I can't help thinking that you never hear about the poor sailors who didn't survive, because they never get to tell their stories.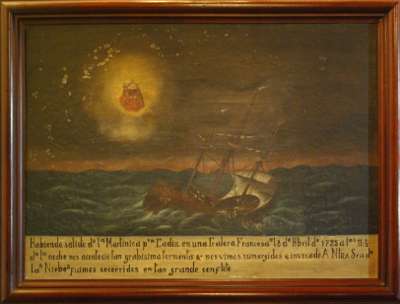 >Visiting hours: Mondays to Sundays from 8 am to 8 pm.