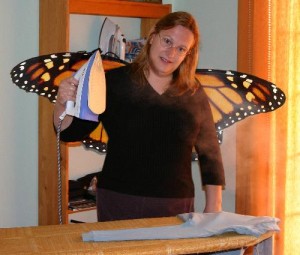 I haven't blogged for ages. It's great having my friends here, and since the housework is being split three ways I do a lot less of it – except when they both got the nasty flu that's going around the island. In fact I call Helen the ironing fairy.
The trouble is that they keep dragging me out to have fun, because they don't have a car.
Plus it's Carnival. Monday was Los Indianos. It's the biggest night of Carnival here and it celebrates the people who left the island to go live in Cuba or Venezuela, and came back stinking rich. So people dress up in white and for some reason throw vast quantities of talc at each other. When I say "vast", the town hall gives out something like six tons of it to people in the parade, and one supermarket was offering a special offer if you bought 25 kg at once. We had a great time, and I'll be posting a page of photos on my web site.
But now my friends are ill again. So I'm doing most of the housework for five. That is, I'm doing the essential bits and letting the rest go hang.