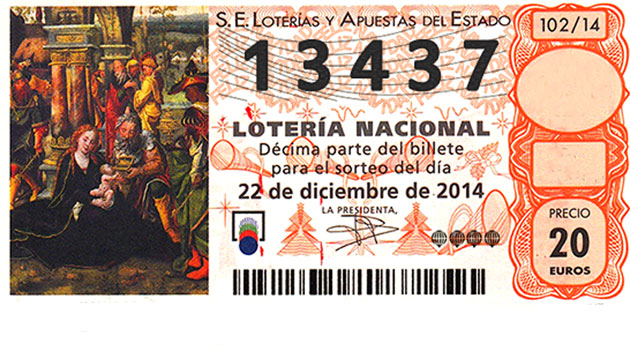 Lotteries are big business in Spain. And I'm happy to say that people do win – in 2012, 70 people in Breña Alta shared 7 million euros. Good luck to them.
The two big lotteries over Christmas are particularly popular, "El Gordo" (the fat one) on December 22nd and "EL Niño" (the child) on January 6th have extra large prizes, but your extra unlikely to win because they sell so many extra tickets.
I don't buy lottery tickets, because I prefer to make my own luck. I also know enough about probability mathematics to know that the house always wins. Tickets for the big Christmas lottery in Spain cost €20, and your chances of winning are tiny. About 1 in 100,000 I believe (so considerably better than the UK, although the prizes are smaller.)
One year my brother-in-law was celebrating because he'd won 250€. But then he bought about 15 tickets, and that cost him 300€.
See what I mean?
I think I've probably got a reputation for refusing to join syndicates. I have to stop myself from banging on about the remoteness of your chances. If you buy a ticket for the British lottery on Monday, you are more likely to drop down dead before Saturday than you are to scoop the jackpot. But some years ago at a Christmas dinner I bought two strips of raffle tickets for €20. Now obviously the top prize was tiny compared to the €3,000,000 of the national lottery, but literally millions of people buy national lottery tickets, and this raffle had only about 50 people entering it. Besides, any profits go towards next year's dinner.
And I won a prize – a ticket to the national lottery for 22nd December. I thought that was pretty funny – spending €20 to get exactly €20's worth of something I didn't actually want. It wasn't until I was on my way home that I realised I could have swapped it for a bottle of wine. Never mind, I thought, I could indulge in a few day-dreams until the draw took place and reality set in.
Well blow me down, I won. No, not the €3,000,000 jackpot. Of course not. I only won €20, so I'm back where I started, except for the laugh.