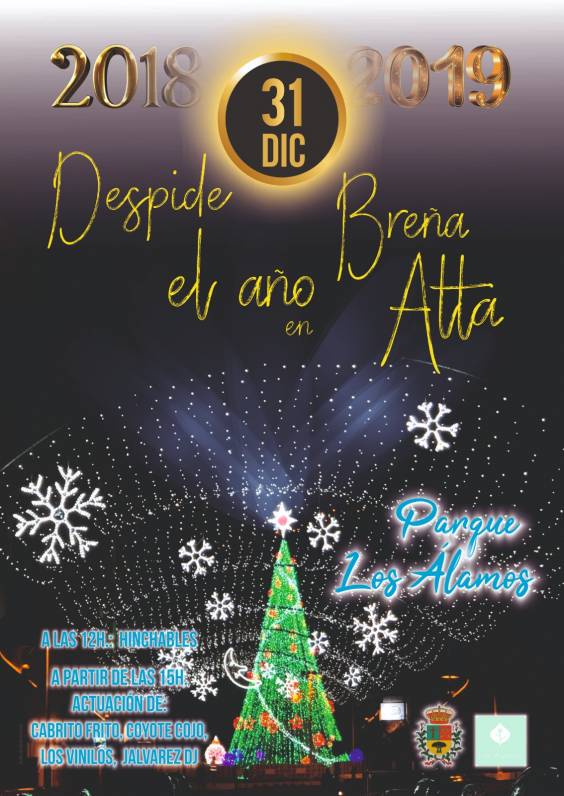 New year is a big thing in Spain. In the last few years, many town halls have put on events for  "Australian New Year" which means they start at midday so little kids can enjoy them. The poster above is for the one at Los Alamos in Breña Alta (take the main road north out of San Pedro for a few hundred metres.)
The writing in the bottom left is pretty hard to read even if you do know Spanish. It says
At 12:00 bouncy castles
Starting at 15:00
music by Cabrito Frito
Coyote Cojo
Los Vinilos
Jalvarez DJ
I'm sure there will be similar events in Santa Cruz and Los Llanos at a minimum, but I'll be going to this one because my husband plays the drums in Los Vinilos who mostly play music from the 60s, 70s and 80s.
There will be lots of free concerts later, too, mostly music to dance to.
Many people dress up – I mean really dress up, as though they were going to the opera at Covent Garden. Traditionally, lots of people eat out,  and the restaurants have a special menu. (You usually need to book well in advance)
At midnight, people traditionally eat one grape for each "boing" of the clock. If you manage all twelve on schedule, it's supposed to bring prosperity for the coming year. (I've only succeeded in getting indigestion.) The street are full of people drinking champagne direct from the bottle, and every town hall on the island lets off fireworks at midnight. From our balcony we can usually see about 6 displays, although most of them are some way off.