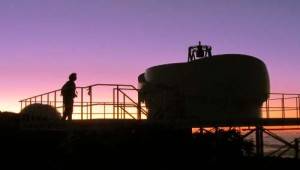 Me and the Superwasp follow-up telescope.
Last night I went up to the Roque to photograph telescopes at sunset. The time rather snuck up on me, so I left in a hurry and a bad mood, worried that I'd drive up (200 hairpin bends and about 75 minutes each way) and not get any photos after all.
As it turned out, I got arrived with about five minutes to spare. So I said "Hi," to Don, who was commissioning the Superwasp Follow-up Telescope and then got out of his hair – commissioning is a hard work, and sunset is a very busy time for astronomers. I was a bit disappointed with my photos of Superwasp itself, but I was pleased with the ones of the Liverpool and the Follow-up telescope, particularly the one at the top where I set the delay timer and put myself in the picture.
Then I went to the Automatic Transit Circle in hopes of getting one of it open – no such luck, but I couldn't resist trying to get a photo of the constellation Scorpio over the Roque itself. And while I was doing that I saw a very bright satellite over the other side of the sky, and hurriedly took this shot of the William Herschel Telescope, Cassiopeia and the satellite. The long streak is the satellite, because it moved during the 15 second exposure. I'm almost certain that it's the International Space Station, because it's so bright.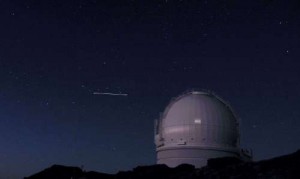 The William Herschel Telescope, Cassiopeia (the W of stars) and the International Space Station.
And finally I tried to get photos of Mercury and Venus. This was tricky, because stars and planets are too faint to see in the viewfinder of the camera – you have to take a 15-second exposure, and even then, you might not be cable to see anything until you upload it to a computer. It's rather like using rolls of film that way.
This photo of Mercury won't win any prizes, (I think the main problem was my 30-year-old tripod, rather than the camera. It certainly wasn't the sky!) But you can still see that Mercury isn't round. It goes through phases, and at the moment it's gibbous. Incidentally, the phases of Mercury and Venus are proof that Ptolemy and the Vatican were wrong, and Copernicus and Galileo were right. There's no version of the Ptolemaic system that accounts for Venus and Mercury being sometimes crescents and sometimes gibbous.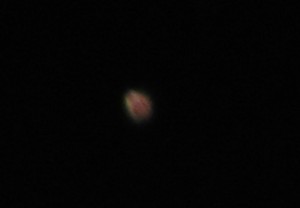 Mercury in a gibbous phase.