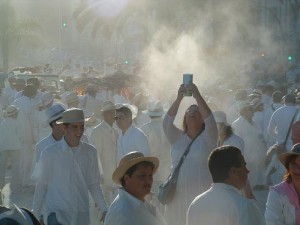 One reason there haven't been many blogs lately is that I've been exhausted. After the recurring flu came the recurring flat batteries. Today at last, I've got a touch of the fidgets. Insteaed of pushing myself to acheive a bit of carefully-selected-something, I actually want to tackle things. It probably won't last long, but it's awfully nice while it does.
And my page of Carnival photos are finally up at
http://lapalma-island.com/fiestas/indianos.php
or there's a Spanish version at http://lapalma-island.com/fiestas/indianos_es.php . They're a lot more interesting than photos of my newly-clean bathroom or the huge pile of laundry I've waded through lately.