Artefuego glassblowing studio is at the back of Plaza Sotomayor, where they hold the Argual flea market every Sunday. It's a good idea to combine the two, because they hold public demonstrations on Sundays between 10 am and 2 pm. They combine fragments of lava into their creations, and to the best of their knowledge, they're the only people in the world to do so. This makes every piece unique.
The workshop is open every day except Thursdays, from 10 am to 2 pm.
They do ask you please not to bring rucksacks, pushchairs or dogs into the shop. Just think of a Great Dane puppy having fun with all those shelves crammed with fragile ornaments!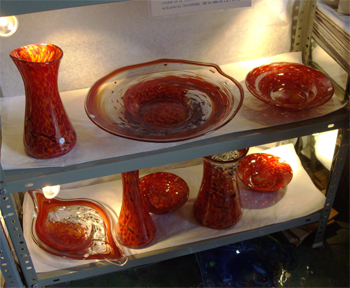 Their website is: http://www.artefuego.com/Artefuego/english.html And yes, they have pages in English.