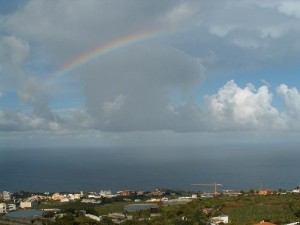 Whether the weather be hot
Or whether the weather be cold
We'll weather the weather,
whatever the weather,
Whether we like it or not.
We've had cold and warm fronts shasing through for a couple of days, giving us unsettled weather. My son doesn't like it. He says he likes to know what it's going to do.
I do like it. I like the dramatic light before and after the rain, and I like the rainbows we often get with it. This shot is from the balcont outside my living room.
Mind you, I'm glad I've finished the big backlog of laundry left over from visitors and the flu. I don't own a dryer – don't remotely need one for most of the year – and getting the stuff dry was the main bottleneck.